Make Epic Memories On Game Night
An easy-to-learn game that both adults AND kids love! Quick gameplay and crazy exchanges create an epic experience.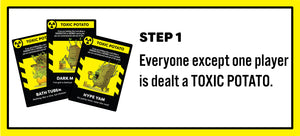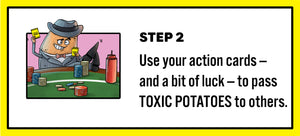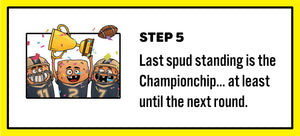 My cousins (age 9, 10, 13, 18) and I (26) didn't just figure out the fine details but went into making our own strategies to mess each other up.

We haven't been able to put it down 2 days in a row and I can already tell I'm gonna need replacement cards down the line from wear and tear.
Ray Marquez
LOVE the game. I've played it a number of times with the kids - we have 8 kids so very glad for the expansions and additional Toxic Potatoes as more are old enough to play too. Played it so far with a mix of ages; 7-11, and it goes very well.
Ryan Jones
I love that there are so many ways to play this game and the Toxic barrel turned out perfect! Great quality, funny cards, and unique game play! Keep up the amazing work Kyle and Mak!!
Noah McLean
The container that houses the game is very unique with no sharp edges. My kids and I really enjoyed this game, and we play quite a bit of different games even prior to the pandemic. Overall, I think this is a great game to add to any collection, or even if no collection exists, and start one.
Age range for 7+ is correct.
SA2
This game is a perfect fit when you want to play a relatively short and engaging game with friends and family. It can be tough to find a fun game that doesn't drag on... not the case with this one! There is a QR code that is included on the physical instructions sheet that takes you to a video that explains the rules. They made it is very easy to understand the game and start playing fast. These guys nailed it with this one!
Ashley Martin